Dorothy Houldcroft (b.1907)
I was about 18 (1925) and of course in those days I only used to see him at church – we were both church goers and at the family dances, you know, the parish hall, cos we were both keen on dancing. We didn't really go out together till I was about 20. Then we got serious, went on holiday, that's when we got the letter from his father to say he'd bought us a farm. Of course we didn't realise what it was like – it was about 128 acres. We didn't get married until the farm was ready to go into -1930.
When I saw it of course my heart sank a little bit, but I thought, well, you know what is…love is blind isn't it? So I took it on. This is why I'd never let my parents know, not even Sam, what a shock it was to me, because I never had to do anything, I'd never cooked, I didn't know much about flowers – we had no garden, at home it was all business premises, a big yard, we'd got horses and stables there and everything. So of course it was all new to me and it was a bit of a shock I can tell you. But still, I was determined to make a go of it, which I did and I can do most things now.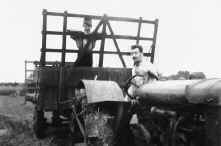 It was all fields and it was all pasture land. There was no ploughed land until the war came. We came into the farm with 49 cows which his father had bought for him and a few poultry and he'd got his own horse. Sam was a rider and we'd got a dog, Jumbo, and that was about all when we started. I had to look after the poultry and I was terrified of them, I really was, especially the cockerel who used to sidle up to you and they'd got spurs – they could really hurt you. We had to work hard – we used to get up at five in the morning and we should be asleep by nine o'clock, The lamp would all flare up, we'd forget to turn the wick down. It was all candles you see, and pitch darkness. I'd had lighting at home, I never put a light on in my bedroom, the lamps outside all lit it up, but there I was in total darkness with candles and lamps, so it was a bit traumatic actually for me.
(In 1930) It was a very bad time, really bad. There had been the miner's strike and you know…we've been to town with only 5p in my pocket…it was a shilling in those days, and we used to often have to walk over to my mother's because we couldn't afford petrol for the motorbike, and it's a long way.
Now Grandfather cleaned the well out, but what we didn't realise see, it was a spring well you see and it was really for cooling the milk, it was in the cooling house. I've got snaps of our little party on the lawn…that's when we had to put the copper on and that's when we realised what we were drinking. And of course you didn't see the water you were drinking when it was in a kettle – on top of the water it was just like a chocolate scum and of course we had to skim it all off before we dare let anyone come in and see it. So they never really knew what they were drinking and that's when Sam went up to the council and got the water laid on.
An old range in the kitchen and of course we had to fill that with coke. I had to cook on this, it was an…old fashioned black leaded grate which I hadn't been used to, so I made lots of mistakes I'm afraid in my cooking – he was very patient with me really. You see it was wild then, pasture land and we grew lovely mushrooms and he brought these in for me to cook, and I said, 'How do you want them cooking?' and he said, 'In milk.' Of course I didn't realise that you cook them in a drop of milk with butter and I didn't like to ask so I did them in a saucepan of milk, so when he came in for his breakfast I actually gave him this basin with these mushrooms floating on the top…which was hilarious. I had to learn by experience.
I wanted a bit of colour in the garden – it was Grandfather who came and helped us. And of course there were no toilets, there were earth toilets down the garden and we had to go down the garden path at night time with a candle or a lamp. I didn't realise this – he (Grandfather) made a vegetable garden – he grew the most marvellous vegetables, I didn't realise from these 'closets' they call them, and we used to have lovely celery. When I knew what was going underneath them I wouldn't eat it!
They had to milk by hand, twice a day, morning and night, but you see we'd got a fella named Albert who used to come from the village. He used to walk over at half past four in the morning to start for five o'clock. He helped with the milking. I never had anything to do with the cows, I was too terrified of them.
Of course we had tragedies I'm afraid. We'd got a big Hereford bull which Grandfather used to take out to water. Well this particular day he'd gone to get the bull out and they have a staff on them you know, like a ring on their nose on a big long pole, and this bull, I don't know why, he turned on my husband and he got him down and if it hadn't been for the dog he wouldn't be here today. There was two more farmers killed that year by a bull. The dog barked so much the he managed to get up and he got into the stable and went to pull the door to and realised he couldn't, it had broken his shoulder. He shouted…and I came out and this bull was careering about with the dog after it you see. I couldn't get to the stable – we'd got the phone by then – and I called the doctor. When they got him out of the stable his clothes were ripped and his body was black with bruises. They rushed him straight off to hospital and I think he was there for months and months. His brother came over to stay on the farm with me…that's how we had to manage for a long time.
There was a duckpond in the yard. Now what happened when this bull got out, he careered into this. There was only a chestnut paling round it and he broke one of the staffs, left a gap about like that. That was the cause of another accident, tragedy. I had twins, a boy and a girl and being in the house we set a girl on and she was a marvelous girl, she took on the cooking, and everything, and enabled me to look after…Keith was only a year and eight months when I had the twins. One day, it was Frances' day off and it had been raining all day…and I let them go out. Frances had been in the habit of looking after them after tea, Sam said, 'I shall be in the cow shed I'll keep my eye on them.'
Robin must have caught hold of this piece of wood that had been broken with the bull and he fell in the water. My husband heard the splash and went to get him out but you see, weighted down with clothes, he was too late, and he was dead. Now that was a terrible shock.
When the land girls came the first girl I had was named Margaret and of course I treated them like a daughter, and to this day I still see Margaret and I still see Cath, they come to visit me.
We couldn't get help you see…the men who worked for us had to join up so we had to have land girls. A farmer was needed then, that's when our farming started to go up, 'cos they needed the farmers then. And this is when they started to plough up you see, I mean, it was pasture until then. They wanted the corn you see, and that's when we really came into our own, and that's when the Milk Marketing Board started and we were able to sell our milk to the Co-op. He formed a milk round 'cos we couldn't sell milk. We used to make butter, I had to learn how to make butter and we used to sell that to our pals. It was definitely very hard work.
During the war years we were all in the black out – you had to black curtains you know….that was terrible for us – we were in the path of the planes going over to Coventry and I shall never forget the night Coventry was bombed so badly. We'd got some friends over from the neighbouring farm had come to stay, you know, for the evening – they never went home…we sat up all night. The children, we put a mattress under the kitchen table…if we went we all wanted to go together, and these planes…we had a huge bomb drop in the top field by the A5 near the railway. There was seven on our other fields, and the noise was terrific. These planes used to come over droning you know…and we all dived underneath this great big kitchen table. This particular night when Coventry was bombed so badly, it shook our house and it moved all the door jambs of the doors, broke the glass – we had a lucky escape really because we were in the midst of it all and there was not shelters for us there. I shall never forget that night really it was terrible. The children were there asleep through it all on a mattress. The war years were very bad really for the planes…we never knew when we were going to go, we never slept upstairs, we couldn't, we daren't, we had to stay downstairs so we made the lounge into a bed-room.
Although the war years were bad for the bombing we were very fortunate because you see we could kill our own pigs, which we did, and my husband knew all the trades-people in Hinckley, and we could get anything bartering; a bit of pork, a bit of bacon, bit of gammon…we had hams hanging up you see, a flitch of bacon and I'd got a bacon machine in those days to cut the bacon.
Mr Newey at Nuneaton was our vet. Of course he was a friend of ours so he used to come up any time whether we'd got anything wrong or not. We used to go to the dances with him and the Hunt Balls and end up at their house in Nuneaton for a cup of coffee, get home here about 5 o'clock and Sam would start milking. How we did it I don't know. And of course in those days you know, to get ready to go to a dance was a two hour job because we used to have the bath in front of the kitchen fire, big zinc bath you see, fill the copper to get the water.
It was during the war when he bought the first combine and bailer, they cost a lot of money…when we had to plough up. For a start it was all pasture…you only needed a tractor, that was all.
It was all done by hand, horse and cart (harvesting). We used to get regulars who used to come down to the farm, just for those sorts of jobs, and you see muck-spreading was all done by hand. They used to get blisters on their hand, I used to treat them with iodine. It was hard work it really was. I used to walk down the fields with a big enamel jug…with the tea, two or three times a day when they were harvesting, and when they were threshing – we used to have threshing days then whereas now there's no such thing as threshing as it's all done by the combine. It was this big machine that used to come to the farm and thresh your corn – separate it. That was all done by hand and it was a dirty, dusty job – you used to get hayseeds in their trouser turn-ups and hay in the house. The combine cut all that out.
The oats had to be 'stooked' then, about four bundles and you stacked them up you see. It was really hard work in those days – the young ones don't know what hard work is today.
Keith used to collect magpies' eggs and he hatched one out and he reared it. We called it Joey. He used to fly in and out of the house and we used to put a bowl of water outside for it to have a wash and then it used to come in and sit on Grandpa's knee while it preened its feathers with its beak, and it'd sit there – you mustn't touch it or it'd fly away – it used to fly in and the things it used to do, 'cos they love shiny things, so we had to learn to put everything away in drawers. I lost a lovely ring that came from America…I left it on the dressing table and we never did find it – Joey had taken it.
Do you know, a magpie can talk as clearly as a human being. Keith was running down the garden and the magpie was hopping after him trying to peck his legs…and he kicked at it. 'Go away, go away,' he was saying, and the bird – these were the first words the bird said – 'Go away, go away.' And I was so thrilled I said, 'The bird's talking, the bird's talking.' And after that, that bird could say anything. It used to go upstairs through Grandpa's window, and Grandpa had got an iron bedstead and it's sit on top there and he could see himself in the dressing table mirror. We used to creep us, we didn't let him see us, and listen to him. He'd say, 'Pretty boy, Joey,' and all the things we'd taught him to say, he'd say. He was a lovely bird, we were thrilled to pieces with him. And then one morning he got out of his depth in the water trough and he'd drowned. We all cried, the kids broke their hearts, we thought the world of that bird. They speak – he was as clear as I'm speaking to you.
All pictures in this section were photographed on Hinckley and nearby farms at the beginning of the 20th Century